Successful completion of the first fully remote-controlled and monitored commissioning of a production line for glass manufacturing
Game-changing remote commissioning by WALTEC
WALTEC successfully realized the first remote controlled commissioning and start-up of a new production line in China. The reason for this worldwide premiere in the glass producing industry was the unforeseeable entry restrictions of the Covid-19 pandemic.
Mr. Herman Green, Global Sales Director stated: "The Covid-19 crisis forced us to think and act out of the box and using technology to eliminate traditional business boundaries. Thanks to the major steps forward in digitalization that WALTEC has already taken in recent years, we were able to apply now our newest digital solutions to carry out the commissioning in China. The first fully remote-controlled commissioning and start-up of represents a major milestone to WALTEC and underlines our innovation driven footprint to realize process optimization."
WALTEC´s operations Director Mr. Rainer Wagner commented: "The remote collaboration between our HQ in Germany and our chinese customer over thousands of kilometers was accompanied by communication via video-capable end devices such as body cams, smartphones and laptops with headsets. In this way, the experts at the remote center of WALTEC were able to take the customer's view without having to be physically on site and so contributing to a lower carbon footprint in general. The components of the production line are equipped with digital hardware that enables remote access to the machine control system and sensors collecting operating data almost in real time. A first step to go beyond Industry 4.0!"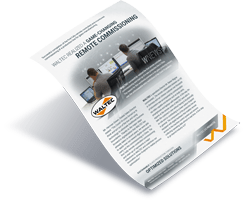 W

NEWS 

– Update your competences
Join WNEWS INNOVATIONS and stay up to date with our latest technologies! Strengthen your business competence, benefit from special offers and discover the next level of productivity and maximum efficiency!